A few weeks back, I republished an
article
I wrote in 2001, in which I asked a number of prominent Australians their views on cloning.
I have attempted to re-contact these same people to see whether or not their opinions have changed during these 5 years. I am pleased to have received 3 replies so far, although a few of my initial contacts have proved very hard to find, or have move out of the field (Prof. Alan Trouson). Their opinions have been very interesting. I intend to take a closer look at some of these ideas in the near future - especially the views from Clonaid, who I will interview, probably in early 2007.
Dr Paul Willis
One of Australia's leading science communicators, ABC
Catalyst
and radio Presenter, PhD in Palaeontology
I would say that my position has modified somewhat over the last 5 years. Therapeutic Cloning (TC) does offer the potential for cures to some pretty horrible diseases and, as such, ought to be pursued to see what it can really do. This should proceed at a research level. Once we know the true abilities of TC for various diseases, then we will be better placed to consider their implementation across society. But I am still concerned that we are looking at expensive medical treatments that will only really benefit a few, relatively rich people in the world. This particularly comes into focus when some of the more frivolous potential app
lications for TC are put on the table. Do we really need to spend billions learning how to make ego-copies of ourselves or developing complicated ways to avoid aging when that money could be more wisely spent saving many lives with much simpler, already proven medical technologies, treatments and basic public hygiene? This is an ethical problem with TC that is often ignored but should, in my view, be ahead of the more popular ethical issues such as embryonic destruction (which I think is a non-issue anyway because the embryos are destined for destruction anyway) or cross-species technologies (again, a non issue if there is no genetic material transfer between species).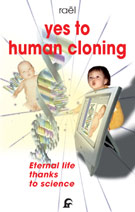 Thomas Kaenzig
Vice President, Operations
Clonaid
www.clonaid.com


More and more people u
nderstand the benefits of the human cloning technology. Being in favor of therapeutic human cloning has already become "mainstream" today and the same thing will happen soon with reproductive human cloning. The ridiculous "ethics" argument brought up by opponents to human cloning is simply a last-gasp attempt by deist conservatives and orthodox dogmatics to keep humanity in ignorance and obscurantism, through the well tried fermentation of fear, the fear of science and new technologies.
Luckily, nothing can stop science ....



Senator Natasha Stott-Despoja
Science and Research Portfolio, Australian Democrats
From her
speech
on the Prohibition of Human Cloning For Reproduction and the Regulation of Human Embryo Research Amendement Bill 2006 - Reproduced in part here after discussions with the Senator's office
I am a strong supporter of this technology (therapeutic cloning), in particular somatic cell nuclear transfer... Scientific endeavour has been an enduring area of interest to me. I have been particularly concerned with finding an appropriate balance between allowing the cutting-edge research and technology that we have to prosper and needing to protect our community through effective regulation of scientific activity...You need to understand how science progresses. It doesn't progress with a single step that means that you suddenly have cures. It moves incrementally towards a goal, and you gradually put in place bits of the jigsaw and solve various technical problems that are required... Those people who think that there is no moral problem with embryo research should be allowed to carry out that research and should not be prevented from doing so by the power of the law. Those people who think the research is wrong should be allowed to say so and to protest against what they believe to be wrong. And those who do not wish to participate in the treatments that arise from stem cell research should be allowed to avoid such treatments... Whether or not this technology will be progressed is beyond dispute. And if it does not happen here, it will happen elsewhere. Unless opponents are suggesting that we ban all imports of therapies derived using somatic cell nuclear transfer then Australians may well ultimately benefit from this technology, regardless of what happens here. But do we not want to be part of this? Do we not want invest in the potential and the hope that it presents us with? At stake is whether or not we want our research community to play the role that they are able to in this. If we allow this bill to pass, we can ensure that Australians benefit not only from the outcome but from the knowledge that is gained in the process and the increased speed with which progress may come about if Australias innovative prowess is allowed to be brought to bear on this challenge.


Add to del.icio.us